About
My name is Eran Weissenstern.
I'm an artist, engineer and a musician.
I seek for the boundaries between imaginary and real, trying to bridge between human and machine.
You can read about some of my past projects here, or see my github for more up-to-date projects I'm currently working on.
---
Projects
"Reach"
Primesense UX Group
Reach is Primesense's TV control paradigm, that demonstrates a concept of direct media access, using natural gestures.
---
"eyeNav"
Eye-control interface for people with ALS
The project reads live video stream from a camera that is located on a glasses frame and pointed directly to the user's eye. The video is processed and analyzed using computer vision algorithm and translates the eye movement to keystrokes (up/down/left/right)
eyeNav is inspired by the eyeWriter project, and uses same hardware (low-cost web-cam on plastic glasses), what makes it different is that it is gesture based (like keyboard) rather than direct cursor manipulation (like mouse)
The project was conceived, born, and took its first steps in 12 hours, during a Hackathon for disabled people
---
"viewFinder"
Mobile Application for Optimizing Composition
Recent years have seen dramatic progress both in the hardware and in the software driving digital photograpy. We now can utilize the processing power of our smartphones to create stunning visual effects.
Alas, almost no effort was made to improve the composition of the images we create, while shooting the photo. This work addresses the challenge by combining computer-vision and photography-theory to suggest an automatic 'ViewFinder'.
---
"MovieWeaver"
Computer Engineering Final Project - HUJI
"Movie Weaver" is an automatic video editor that utilizes the power of probabilistic models along with filmmaking paradigms to turn a collection of video clips into a movie.
Example of a optimized sequence of clips (note the smooth color transition):

compare to a random sequence:

For more details read the book or see the poster
---
---
"WikiWars"
Visualisation of relations between Wikipedia articles
Using advanced dimensionality reduction and text analysis techniques in order to create a two dimensional semantic map of Wikipedia terms. Each term was represented by an individual pixel color-coded by how contentious the topic was.
The "controversiality measure" is extracted by carefully analyzing the revision history of each term in order to identify combative erasing and rewriting, indicative of a highly disputed topics.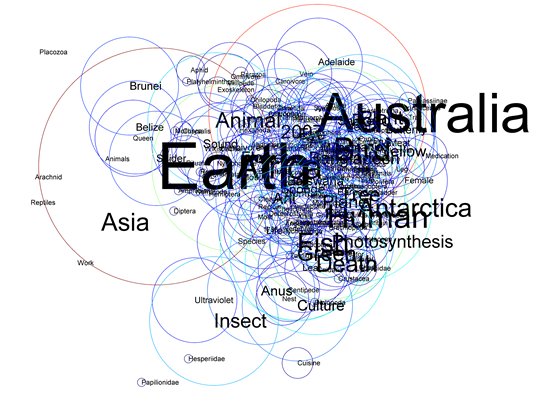 ---
"Dance Jockey 1.0"
Sonficiation of Dance
---
"BigBird"
A smart twitter client for mobile phone that tweets according to the learned user behavior.
By using multi-class perceptron on the device's input sensors like accelerometer, GPS, and microphone, and correlating it to the user's history of tweets.
---
---
Community
Talks, Events
Speaker at GDC, Game Developer Conference 2012, Presenting "How to create Motion-game from scratch in 30 minutes"
---
I developed and led a Motion-game Workshop with PrimeSense sensors and Unity3d.
The workshop was held at "Center of Design and Technology", for an audience of students and graduades of Bezalel Academy of Arts and the Hebrew University.
The workshop was given also in a game development course at Shenkar.
---
Co-organizer of "INFECTED", the 1st hackathon at the "Center of Design and Technology".
I was mentoring and giving technical assitance to teams who developed project with Primesense 3d camera
---
Speaker at the New Media Conference, in the 14th International Student Film Festival, Tel-Aviv. Presenting Primesense's technology and it possible usage in the film industry.
---
Friends
Here are some beautiful projects that I helped to carry out
---
"We Are Family" by Oded Ezer
'We Are Family' is an interactive, typographic-animated-gif installation that make use of fragments from found online political, brutal, pornographic and other videos to create a new kind of typographic visual language.
---
"Follow Focus" by Adi Soffer
A remote controlled focus for DSLR camera
Read the tutorial
---
"Video Accordion" by Shmulik Twig
An accordion that controls the playback of the video, where each key picks a different performance-clip to play, while the direction and speed of the video playback is controlled by the accordion's bellows.
Watch the whole circus in vimeo
---
"New Falafel Concept" by Avishai Lapid
An interactive ad concept.
---
cv / work experience
Connect via linkedin
Primesense
Application Engineer, UX team

2011 - 2013
I am part of the multidisciplinary UX group that design and develop gesture based control paradigms for Natural User Interfaces.
From concepts and brainstorm, through wireframes and mockups, to a working live demo.
See 'Reach' for the video.
---
Powermat
Firmware Engineer
2009 - 2011
I was part of the R&D team that developed the first commercial wireless charging solution.
I was the lead developer of "Powermat Anywhere", a wireless power charging solution, that self adjusts to the user's device using gradient descent search algorithm. (squeezed into 64 bytes of RAM!)
---
2007 - 2009:
Yellow Submarine Music Club
Freelance Translator
I translated the monthly programme of the well known music club from Hebrew to English.
---
2006 - 2008:
IDF - field experiment team
I was part of research and development experiment team for the IDF vehicles' armor. I helped to develop the Namer, an armored personnel carrier.
---